| | |
| --- | --- |
| | Welcome to the home of Guitarsmart where you can download Guitar Pro 4 for your Windows 9x/ME/NT/2000/XP! |
GUITAR PRO 4
WHAT'S NEW ?
Among the new options are:
Standard Notation (displaying, capturing and printing)

Mutlitrack Printing

Fretboard

Keyboard

Lyrics

Scales Tool

Drum Notation

Digital Guitar Tuner

Chord Diagram for 4 to 7 strings with Fingering and management of Barred

WAVE and BMP Exportations

Undo/Redo

New Notation Elements : Various Harmonics, Accentued Notes, Staccato, Rasgueado, Pickstroke, Left and Right Hand Fingering

New Effects : Advanced Tremolo Bar, Trill, Palm Mute, Various Slides, Tremolo Picking

Cut/Copy/Paste between 2 Guitar Pro sessions

Search Engine to find Tabs on the Web

Auto Backup/Restore

User's Tunings

Enhanced Interface

and more...
Here You Can Download Guitar Pro 4 Full Version For Free With Serial Number Provided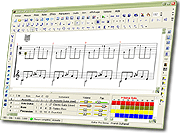 Click Guitar Pro 4 Logo Below To Start Download
But wait there are more you also can download web sites file transfer protocol ( ws_ftp ) here !!!!!!!!!!
The smarter way to transfer files.
WS_FTP Server for Windows® NT/2000/XP makes sharing files fast and easy. It allows transfers of more files to more destinations without adding to your workload and maximizes the rate of successful file transfers.